"One of the great mavericks of New Zealand Film"
- NZ Listener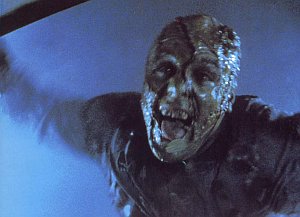 Image from DEATH WARMED UP
David Blyth's early films include the horror classic Death Warmed Up (1984)
and edgy controversial social commentary in Angel Mine (1978) . Finally, the DVD of Angel Mine has been released and is now available.
NZ On Screen Pushing Top 10 for 2015 - see how they rated Angel Mine.
NZ On Screen Pushing Boundaries - see Featured section.
Video: A celebration of the dark and fantastic films of Kiwi enfant terrible David Blyth. Showing 26 Aug - 3 Sept 2015, at Ngā Taonga Sound & Vision, 84 Taranaki St, Wellington.

With many international festival releases, David Blyth has carved a niche with a recent series of cult horror films, ground breaking documentaries and feature films. Here you can obtain David Blyth, DigitalWallpaper.net and DavidBlyth.com releases.
---