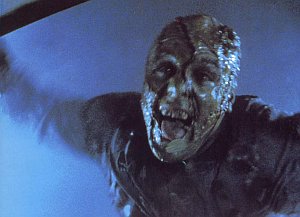 Image from DEATH WARMED UP
David Blyth's early films include the horror classic Death Warmed Up (1984)
and edgy controversial social commentary in Angel Mine (1978) . Finally, the DVD of Angel Mine has been released and is now available.

Now, with many international festival releases, David Blyth has carved a cult niche with digital film productions. He has released superb documentaries and feature films. We make available copies of David Blyth productions, DigitalWallpaper.net and DavidBlyth.com releases plus provide links to find some rarer films via Amazon.
NEW: Check the FEATURES section for latest on a Wellington Festival of David Blyth's films
Contact David Blyth: email Twitter: BlythCult
---
"One of the great mavericks of New Zealand Film"
- NZ Listener
---