Heroes of New Zealand Film
New Zealand has become known as Middle Earth as film maker and self confessed "Hobbit" Peter Jackson returned, a world conquering hero. New Zealand is very proud of its world class heroes. David Blyth is a contemporary of Peter Jackson. Indeed, David's first horror film,
Death Warmed Up
had fans running and screaming in the aisles about the same time
Bad Taste
was being made and
Gremlins
came out. Death Warmed up charmed the international festival circuit, see what
Alejandro Jodorowsky
said about his encounter with David and his high regard for this scarey film.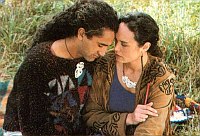 David went on to make Hollywood productions including
Mighty Morphin Power Rangers
and continued to make great New Zealand film, including
Kahu and Maia
- starring the internationally successful Maori actor Cliff Curtis. David Blyth has recently collaborated with maverisque muso Jed Town in a stunning collaboration,
Fish Tank Telly
. Check it out. It's a new wave of fish tank videorama set underwater and brilliant music.
---